Starting a cracking cellar door contains more than just mortar and bricks. Grants, renovations, crowdfunding, and education are all involved.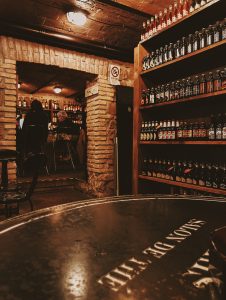 Visiting a cellar door for the first time is like a blind date. You don't know who will turn up, what they are interested in, whether they are just browsing for a fly-by taste of your good stuff. For a brief period, you need to give them a warm welcome, impress them with the location, amaze them with your attention to detail, individuality, aesthetics, technical prowess, cooking skills, and of course the fruits of your labour. Once you play your cards right, you can obtain their contact information and catch up again whether online or in person.
It can be an overwhelming process when you set up a cellar door, but once it is done correctly, it has the potential to boost revenue. Wine Australia released survey results conducted by Small Winemaker Production and Sales Survey stating that small winemaking business raised $1 billion in wine sales revenue from 2015 to 2016. The average increase was 12 percent. Although wholesalers and retails generated 47 percent of income, cellar doors have turned out to be progressively more important sales channels accounting for 27 percent of revenue.
Whether you are a small winery or a big business, it is important to get it right. For the majority of wineries, this is where it all comes together: introducing your brand, sales, worker productivity, tastings, database growth and feedback.
Starting out on a new cellar door can take a lot of time management, especially in Melbourne, and Frank Mitolo from Mitolo Wines can attest to that. The McLaren Vale winery's cellar door kicks off in late 2017 after almost 18 years, with planning that lasted more than four years. Frank says the new build located on McMurtie Road is "a bit of a moving beast." The one-of-a-kind design is composed of six retro-fitted shipping containers. They also added a large wraparound tasting bench, Konstantina doors, a restaurant, a private dining room, a private tasting room for wine club members and VIPs, a function space, and outside areas with bocce facilities. Food served to guests ties back to the family's Italian roots. "It had to reflect my mother and father's home region, Abruzzo. It will all be centred around a bespoke wood-fired pizza." Frank says.
Since it is a family-owned winery, integrating family into the brand marketing was very important. The cellar door will be managed by Gemma, the daughter. She says, "the G of the GAM, my first ever wine, a single vineyard shiraz." Back vintage wine which have good stocks available have been set aside for tastings. "We want to showcase the virtues of aged McLaren Vale reds. The actual tasting bench is unique as it enables a full walk-around experience, with tasting flights matched to specific anti pasto prepared in front of you."
To maintain a successful cellar door, constant evolution and brand building is essential. Merricks Creek, a small family-run Mornington Peninsula winery, has been in operation for a number of decades. They started manufacturing wine fin 2001 when a contract to sell their pinot noir crop collapsed. Before that, they were grape growers. Due to popular demand, they had to move to a bigger place and added a cellar door. Peter Parker and his son Sam are new to managing a cellar door, but it is a great way to introduce and promote their chardonnay and pinot noir to people. The new open plan cellar door is decorated with fireplaces and has been a hit.
Because of the stiff competition, improvements are an ongoing commitment. Even if you have already amassed a number of accolades, you'll need to step up your game. In north-east Victoria, the team at Fowles Wine is revamping in Avenal.
In 2001, the Strathbogie Ranges cellar door opened. It has a courtyard and café. The building is simple, made from timber from a nearby farm and mudbricks. The owners plan on having a restaurant, function shed, farm shop, tasting room, and private dining. Fowles aims to focus on outdoor features." Matt Fowles, CEO and vigneron says, "We're in the process of making the outside better: a natural playground, a feasting/picnic area and some animals for the kids. It's not sexy, but the carpark will be much improved. We have also updated our POS to give a better service experience and we will introduce some cool IT-based educational tools."
Matt has confidence that amusements for children, knowledgeable staff, some informal education, and great wine and food are important. "We have chosen to go down the full dining experience, but even simple spreads, cheeseboards or picnics create a great extension to the experience. We find people want to slow down with us – what better way to embrace country life than through local food?"
Another part of the experience is live theater. "We are in a sparsely populated region, so live theatre is very well received."
A study led by the Australian Wine Industry Cellar Door Research conducted in 2013 across 79 wineries in Australia's 15 wine regions looked at the effect on the public's behaviour in a span of 6 months following a cellar door visit. 54 percent of all visitors (the buyer group) purchased an average of 9.1 bottles of the winery's wine and the chances of future purchase was an average 47 percent. 33 percent of these purchases were from large national liquor chain stores. Revisits to cellar door amounted to 23 percent and a mail order, online orders, and wine clubs (direct-to-consumer channels) have make up 31 percent of the purchases.
Word of mouth will absolutely spread once first-time visitors love a specific cellar door. The study discovered that a total of 83 percent of consumers endorsed a wine from the winery within three months of visiting. 65 percent of recommendations came from those who had face-to-face conversations. In social media, 7 percent has provided recommendations particularly on Facebook.